Image above: Cox Architects' Project Manager Pacific, Mr. Christopher Cox, with the local village Building Manager, Solomon Islands.
Cox Architects have undertaken a wide variety of indigenous architectural work over the past 35 years in many different locations in Australia. This long developed experience was utilized recently in the completion of an international indigenous project in the Solomon Islands.
Cox Architects have completed the first part of a project in a remote region of the Solomon Islands by providing professional expertise and assistance in the construction of Infrastructure Works designed to improve the living standards and safety of the local community.
Besides the technical expertise provided, Cox Architects' Project Manager Pacific Mr. Christopher Cox, lived and worked with the communities to ensure the implementation of the assistance programme.
With a passion for sustainable development, Christopher spent the last twelve months working on various projects on Vangunu Island in providing aid and assistance to these communities.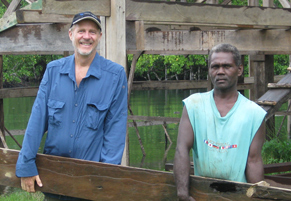 Christopher worked alongside local communities in extremely remote settings to install multi-function community shelters with access to clean water, renewable power systems and remote satellite internet connectivity. He worked closely to improve the longevity in these buildings by mitigating the effects of termite and tropical storm damage.
Christopher stated: "Due to the inter-connective nature of these local communities, the multi-function shelters developed were able to be used by health clinics, schools and religious organisations".
Cox Architects have continued their assistance to these communities by providing a research scholarship to the same to enable these new ideas developed to flourish and continue.